Nice to meet you
I am Diana van der Wal, a creative soul who enjoys music and spending time with friends and family. Rotterdam is the city I am proudly born, raised and based in. As a true Rotterdam native, I love architecture and the dynamics of the city. These predilections, together with my sobriety, can be found in the modern jewelry I make.
Shortly after I completed my degrees in silversmithing and goldsmithing, I started a business in a beautiful workshop in the heart of Rotterdam, I spend 10 happy years creating jewellery with pleasure and passion. When it was time for a change, I sold the company and enjoyed a break. It didn't take long though before I was back at my workbench, the place where it all started, once more.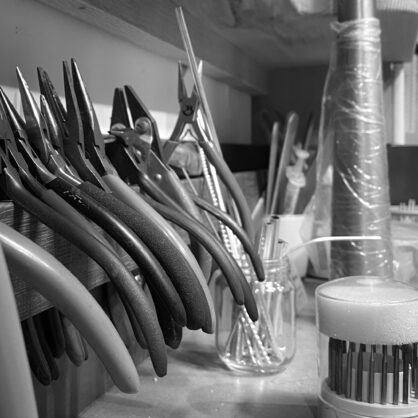 At my workbench, is where I am in my element. I love revealing the beauty of items that originally had practical purpose only.
At the moment, I am fully focused on the contemporary collections "No Time To Waste" and "Number One". My fascination with time and the love for my profession mutually shape these special collections.
Inspired by architecture, industry and technique my style can be described as sleek and modern with a rough edge and nod towards time.
Of course, there is always room for the personal assignments, because nothing quite matches the feeling of designing and creating jewellery based entirely on the clients wishes.
---
IK -in Dutch- stands for Individual & Distinctive. Jewellery makes a statement about the person wearing it. This is why IK, also meaning I, love giving each piece of jewellery that extra touch of distinctiveness that complements the person wearing it, expressing their unique character, their individuality. I think that is one of the best aspects of my profession.
Do you want your own timepiece to become a piece of jewellery?
Or perhaps you are holding on to somewhat dated jewellery that you would like to see customised into a design that better suits you? Please don't hesitate to contact me, I'll be happy to hear your ideas and work with you on creating your very own and very personal piece of jewellery.